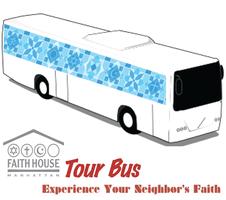 Tour Bus Wrap-Up Living Room
With Samir Selmanovic, Bowie Snodgrass, Nadia Banna, & guests from all four Tour Bus communities
6:00 pm – Doors Open
7–8:30 pm – Living Room
8:30 – Bring treats for a holiday party
The sacred services we visited on our tour were all deeply embodied and even ecstatic experiences. Bring your whole body and soul to an evening celebrating our neighbor's faith with Gospel music, Kirtan chanting, moments of Zikr, a Flute duet, breathing out the Sh'ma, readings from sacred scriptures, images, videos, lots of time for sharing stories, reflections and food! Bring a treat to share.
Intersections International
274 Fifth Avenue, Between 29th and 30th Streets
* * *
This is the final stop in a 5-stop "tour" over seven weeks.
See all details:
www.faithhousemanhattan.org/2011/09/15/tour-bus-2011
From an experience of worship at a Hindu temple, to a Jewish Shabbat service, to a Sufi Dhikr at a downtown Dergah, to midweek "Space for Grace" at a major Protestant church – either as "Interfaith 101″ or an opportunity for seasoned pilgrims to be hosts and guests in their own setting and city – this seven week adventure will be a unique, New York City interfaith experience.